Hurricane Irene was the first of 2011 (image courtesy NASA, from MODIS on the Terra satellite)
The official hurricane season lasts from June 1 to November 30, but we're just getting into the peak of it now. With most models and forecasters predicting above-average levels of activity for this year, we can expect several more.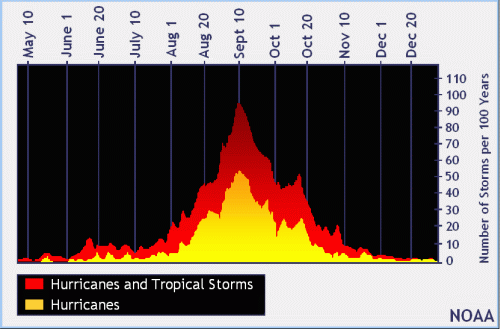 Although Irene didn't cause as much of the chaos and destruction that was feared, future storms still can. MIT Sea Grant has a handy hurricane preparedness checklist, as do many other organizations.
Read lots more about hurricanes past and present at NOAA's National Hurricane Center. Weather Underground also has hurricane page, which like all parts of their site is fabulously rich in information and great images. MSNBC has an easy-to-view hurricane tracker site. For real entertainment you can check out the names of all future hurricanes at the NHC, and wonder how they come up with these names. Shary, seriously? Or Gert? And who names their hurricane Franklin any more? More on hurricane names at Running with Data.